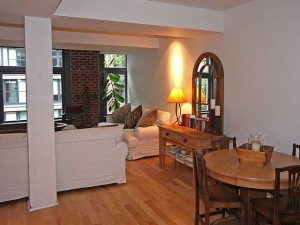 The rents of rental housing in Vancouver seem slightly higher than in other cities. However, compared to Japan, the conditions differ substantially. First, electric appliances necessary for living are furnished.
For example, ovens and refrigerators are for granted. In addition, some accommodation units are equipped with an automatic dishwashing machine, a microwave oven, a garbage disposer, a wash machine and a drier. In addition, rents of most units include heating expenses and costs for hot water. However, those condominium units owned and rented out by individuals may not include heating expenses although this depends on each building. Monthly expenses other than rents are not so much: Approximately forty to sixty (40-60) dollars for electricity of ordinary use, thirty (30) dollars for telephone (the basic charge includes outgoing calls to cities in the vicinity of Vancouver) and thirty (30) dollars for cable TV. There is no water bill. Water is free no matter how much you use it. As of now, the vacancy rate is approximately three percent (3%). As the best way to find accommodation, we recommend you to actually see properties after arriving in Vancouver.
Average rent (inside the City of Vancouver)
Types
Rent
Apartment or Condominium
1LDK
$950 – $1,800
2LDK
$1,200 – $2,500
3LDK
$1,800 – $3,000
Townhouse
2LDK – 3LDK
$1,500 – $3,000
House
2LDK – 4LDK
$2,300 – $5,000

Request for information on rented accommodation brokerage
Please fill in the form below.
We will email you back with detailed information on contracts and the table of charges of our rented accommodation brokerage.